Zelda demo


General Info
Genre(s):
"Genre(s)" (Action, Adventure)
Contributor(s):
"Contributor(s)" (Nicolas(TheHappyCrocodile), Charles)
Release Date:
"Release Date" (Dec 2015)
Development Status:
"Current Development Status" (Planning)
Version:
"Version Number" (1.0.0)
Size:
"Size in Bytes and Kilobytes" (??? (??? KB))
Mode(s):
"Game Modes" (Single-Player)
Language(s):
"Language(s)" (French)
My program is a test to see if the sprites are corrects for my future Zelda, that will be release in a few months in English and in French.
Instructions
Edit
Use the D-stick to move.
Changelog
Edit
This is just a demo. I will soon make a better game (a real game).
Future Plans
Edit
In a few months, I will put a real Gameboy Zelda.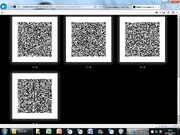 ==Download==
To download, take the picture near. (Sorry for the problems)
It is from Nintendo.
They may be some bugs and I'm really sorry because I am just learning "SmileBasic". I forgot to put the sprites QR codes. I'm searching them.
==Credits== Nicolas (me): Programming and Charles: Draw the sprites from "Nintendo"
Ad blocker interference detected!
Wikia is a free-to-use site that makes money from advertising. We have a modified experience for viewers using ad blockers

Wikia is not accessible if you've made further modifications. Remove the custom ad blocker rule(s) and the page will load as expected.