Warhero


General Info
Genre(s):
Action, Text Adventure, Adventure
Contributor(s):
Weaslepop
Release Date:
10-31-13
Development Status:
Currently in beta.
Version:
Version Number
Size:
Unknown
Mode(s):
Single player
Language(s):
English
Warhero is a demo and hopefully an upcoming text adventure game. It is currently in beta but feel free to add more to it. Source code is incredibly small, at least 50 lines.
Instructions
Edit
To play the game all you need to do is launch the game and follow in game instructions.
Changelog
Edit
No updates made, due to this being a demo and not a release.
Version 1.1.0
Edit
None
Version 1.0.1
Edit
None
Version 1.0.0
Edit
Release, open to programmers and others.
Future Plans
Edit
I would like to make the game fully released. Also hopefully a sequel.
Videos and Screenshots
Edit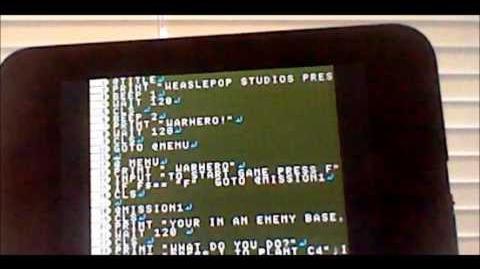 See the photo page.
Not technically a game yet. Right now it is only in beta, it could be considered a game. Or a tech demo.
List anyone who worked on this game.
Ad blocker interference detected!
Wikia is a free-to-use site that makes money from advertising. We have a modified experience for viewers using ad blockers

Wikia is not accessible if you've made further modifications. Remove the custom ad blocker rule(s) and the page will load as expected.