Virtual Yokubo (Virtual Character)


General Info
Contributor(s):
Tobukatsu
Release Date:
March 3, 2014
Development Status:
1.0.0
Version:
1.0.0
Size:
Not known
Mode(s):
Single Player
Language(s):
English
A Virtual Character for PTC.
Instructions
Edit
If you don't want "File could not be loaded/found" pop ups, type "RENAME" and rename "Yokubo".
Changelog
Edit
Version 1.0.0
Edit
Future Plans
Edit
More commands and conversations
Videos and Screenshots
Edit
None.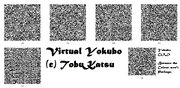 (c) TobuKatsu
Help make the Virtual Character by adding commands and more conversations and conversation starters. After adding more commands and conversations, send me the QRs through the Petit Computer Wiki chat and you will be added to Credits and the Program will be updated! WARNING: Please do not add starters or commands such as "Bloopy", "Doge" etc. You may add conversation topics of "Bloopy" and "Doge".
User:TobuKatsu- Contribution(s)
Ad blocker interference detected!
Wikia is a free-to-use site that makes money from advertising. We have a modified experience for viewers using ad blockers

Wikia is not accessible if you've made further modifications. Remove the custom ad blocker rule(s) and the page will load as expected.