Translator Engine


General Info
Contributor(s):
IAmAPersson
Release Date:
January 7, 2014
Development Status:
Stable
Version:
Prerelease 1.0
Size:
Unknown
Mode(s):
Singleplayer
Language(s):
English & German

Hello! I saw that there was not a translator for Petit Computer, so I made one! It is not done, and it only has a few words. You can use it for anything you need (even make it translate into another language)! Enjoy!
Hallo! Ich sehe dort was kein Übersetzer für Petit Computer, so ich mache eins! Es ist nicht aus und es hat nur wenige Wörte. Du kannst verwenden es für alles was du brauchst (auch machst es übersetzen zu ein anderer Sprache)! Genießt!
Instructions
Edit
Write your sentence in English and it will make it German, or vice versa.
Schreibst dein Sazt auf englisch und es wird machen es deutsch oder umgekehrt.
Future Plans
Edit
Add more words.
Machen viele Wörte.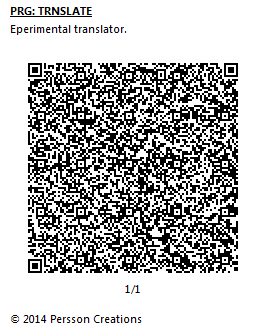 The MIT License (MIT)
Copyright (c) 2014 Persson Creations
Permission is hereby granted, free of charge, to any person obtaining a copy of this software and associated documentation files (the "Software"), to deal in the Software without restriction, including without limitation the rights to use, copy, modify, merge, publish, distribute, sublicense, and/or sell copies of the Software, and to permit persons to whom the Software is furnished to do so, subject to the following conditions:
The above copyright notice and this permission notice shall be included in all copies or substantial portions of the Software.
THE SOFTWARE IS PROVIDED "AS IS", WITHOUT WARRANTY OF ANY KIND, EXPRESS OR IMPLIED, INCLUDING BUT NOT LIMITED TO THE WARRANTIES OF MERCHANTABILITY, FITNESS FOR A PARTICULAR PURPOSE AND NONINFRINGEMENT. IN NO EVENT SHALL THE AUTHORS OR COPYRIGHT HOLDERS BE LIABLE FOR ANY CLAIM, DAMAGES OR OTHER LIABILITY, WHETHER IN AN ACTION OF CONTRACT, TORT OR OTHERWISE, ARISING FROM, OUT OF OR IN CONNECTION WITH THE SOFTWARE OR THE USE OR OTHER DEALINGS IN THE SOFTWARE.
Die MIT-Lizenz (MIT)
Copyright (c) 2014 Persson Creations
Hiermit wird unentgeltlich , jeder Person, die eine Kopie dieser Software und der zugehörigen Dokumentationen (die "Software") , zu beschäftigen in der Software ohne Einschränkung , einschließlich und ohne Einschränkung der Rechte zu nutzen, zu kopieren , zu ändern , zusammenführen, zu veröffentlichen , zu verbreiten, unterlizenzieren und/oder zu verkaufen, Kopien der Software und den Personen zu erlauben, denen die Software zur eingerichtet, um so zu tun , unter den folgenden Bedingungen :
Der obige Urheberrechtsvermerk und dieser Erlaubnisvermerk sind in aufgenommen werden alle Kopien oder wesentlichen Teilen der Software .
DIE SOFTWARE WIRD "AS IS", OHNE JEGLICHE GARANTIE, AUSDRÜCKLICH ODER EINSCHLIESSLICH, ABER NICHT BESCHRÄNKT AUF DIE GARANTIE DER MARKTFÄHIGKEIT, FÜR EINEN BESTIMMTEN ZWECK UND NICHTVERLETZUNG. IN KEINEM FALL DIE AUTOREN ODER Copyright-Inhaber HAFTUNG FÜR SCHADEN ODER ANDERE HAFTUNG, AUCH IN EINEM VERTRAG , SCHULD ODER NICHT, DIE SICH AUS, AUS ODER IN VERBINDUNG MIT DER SOFTWARE ODER DER NUTZUNG ODER AUF ANDERE ART IN DIE SOFTWARE.
Ad blocker interference detected!
Wikia is a free-to-use site that makes money from advertising. We have a modified experience for viewers using ad blockers

Wikia is not accessible if you've made further modifications. Remove the custom ad blocker rule(s) and the page will load as expected.