Town of Salem



General Info
Genre(s):
Awesomeness
Contributor(s):
Me
Release Date:
28/8/2014
Development Status:
Alpha
Version:
0.3
Size:
2'896
Mode(s):
Single-Player
Language(s):
English

Town of Salem... That thing I'm getting addicted to.
Have fun experimenting the Alpha stage of the program where you can't do anything.
Instructions
Edit
You can't do anything yet
Changelog
Edit
Alpha 0.1
Edit
First saved version
Day and Night system using VSYNC
Alpha 0.2
Edit
Creating players data
Creating roleset (The classic one)
Alpha 0.3
Edit
First released version
Adding Game messages like Good night, village
Adding some minor graphics
Adding "debug" stuff
Adding Voting Phase, even if useless for now
Future Plans
Edit
Alpha 0.4
Edit
Adding a roleset of 30 (yup, not 29) players for future testing
Adding more minor graphics
Adding the information about your role on the touch screen (using DATA)
Alpha 0.5, The A.I. Update
Edit
Making the Sheriff and the Mafioso playable!
Adding a Sheriff that will interrogate randomly one person each night
Adding a Mafioso that will murder randomly one person each night
If the Sheriff finds the Mafioso, it will tell the Town
Everyone in the town can vote on Voting Phase, if they wish to
You can win as both Sheriff (lynching the Mafioso) and Mafioso (killing the Sheriff)
It'll be all about luck in that version :P
Videos and Screenshots
Edit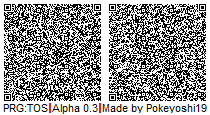 Game in development. Suggest things or give feedback in comments!
Ad blocker interference detected!
Wikia is a free-to-use site that makes money from advertising. We have a modified experience for viewers using ad blockers

Wikia is not accessible if you've made further modifications. Remove the custom ad blocker rule(s) and the page will load as expected.