The Petit Computer Code Generation Project



General Info
Contributor(s):
GimmeMoreCoinz
Release Date:
TBA
Development Status:
Planning
Version:
1.0.0
Size:
0
Mode(s):
Single-Player
Language(s):
English
Instructions
Edit
Click through the menus, select one of the few options. Test Code, Debug Code. Generate new code. Create a game: (From template) That's all there is right now. A system like this is highly limited and it is to be noted that the project is for experimentation purposes only and by no means do I promise the code this project generates to be stable, working, or good.
Changelog
Edit
Not released yet
Future Plans
Edit
The program will be capable of generating or even analyzing Petit Computer code, finding bugs, detecting possible misspellings of variables by doing string comparison i.e. my_var vs my_vars. Player_stats_bonus :: Playerstats_bonus. The types of user errors are not commonly detected by compilers or IDES. The code generator will actually feature a set of pre-made commands that will first be tested on Petit Computer. The code generator will have some standard menu customization options, a text based game creation system (of sorts) and a few different game engines that will be modifiable to create custom Petit Computer games which can later be modified once generated. Maybe a sprite viewer, and code to generate control code for specific sprites etc.
Videos and Screenshots
Edit
None yet.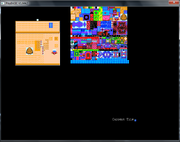 No download yet.
None yet.
Ad blocker interference detected!
Wikia is a free-to-use site that makes money from advertising. We have a modified experience for viewers using ad blockers

Wikia is not accessible if you've made further modifications. Remove the custom ad blocker rule(s) and the page will load as expected.