The MAZE Game



General Info
Genre(s):
[Rpg]
Contributor(s):
W!lbur$tudios
Release Date:
6 - 22 - 15
Development Status:
Beta
Version:
v1.0.0-B
Size:
5140 bytes
Language(s):
D48 Triforce...(no jk its English)

The MAZE Game is a simple, yet challenging, and addictive RPG style game. Your job is to collect as many
gold coins as you can before the timer hits zero. This may sound easy but trust me it's far from that. The playing ground is littered with rocks, but it is okay because your player can sense the rock and turn the other way before collision. This may also sound great, but when you are trying to get coins, your player can't touch rocks, and the rocks send you in the opposite direction things can get a little bit troublesome!
The number of rocks that appear on the screen changes by every level. (That number would be the maximum amount of rocks that can possibly be on the screen.) Every time you collect a gold coin you get 25 points added to your score. This score is saved along with the other scores (beginner, hard, and intermediate are all stored on the same save file) and are bundled together in one GRP file. This makes the program smart enough to tell when your previous score was less than your current score and so on.
The MAZE Game is a very fun game and I put a lot of work into it. It is a serious program not some little test. It should be treated with respect. Do not reproduce it. Do not use the sprites that will come in following versions for your own personal use. Please share it with your friends, but please don't edit my work to make it in any way inappropriate or perverted.
Thank you and enjoy,
W!lbur$tudios
THE CONTENT FOUND IN THIS GAME IS SUITABLE FOR ALL AGES AND CONTAINS NOTHING THE USER MAY FIND IN ANY WAY WRONG.
THIS GAME IS PUBLISHED STRICTLY FOR THE USERS ENJOYMENT
Change Log
Edit
v0.5.0-D
Edit
Initial Release of the game. Featured a Beginner, Intermediate, and Advanced.
v1.0.0-B
Edit
Beta version. Features the new Challenge mode, and custom sprites!
Download
Edit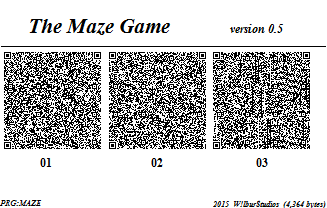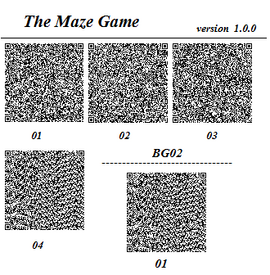 v0.5.0-D
v1.0.0-B
Ad blocker interference detected!
Wikia is a free-to-use site that makes money from advertising. We have a modified experience for viewers using ad blockers

Wikia is not accessible if you've made further modifications. Remove the custom ad blocker rule(s) and the page will load as expected.