Swiftly


General Info
Contributor(s):
User:Elftiger
Release Date:
January 30,2015
Development Status:
final
Version:
"Version Number" (1.0.0)
Mode(s):
single-player,multiplayer
Language(s):
englisgh
Instructions
Edit
move swiftly to get the coin but avoid the enemies!
main game saving high score sharing score!!! settings
version 2.1.0
Edit
complete game!
Videos and Screenshots
Edit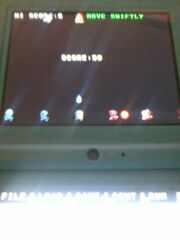 feel free to edit just don't pass off as your own
Ad blocker interference detected!
Wikia is a free-to-use site that makes money from advertising. We have a modified experience for viewers using ad blockers

Wikia is not accessible if you've made further modifications. Remove the custom ad blocker rule(s) and the page will load as expected.