Super Monster 2



General Info
Genre(s):
Action, Arcade
Contributor(s):
Kouyama
Release Date:
Oct. 28, 2012
Development Status:
Final
Version:
1.0.0
Size:
Unknown
Mode(s):
Multiplayer
Language(s):
Mostly Japanese
A two-player Petit Computer game. Work together to push blocks around in a maze of sorts to trap enemies.
A pattern is cleared and points are awarded when all enemies are trapped.
Instructions
Edit
Left Player: D-Pad.
Right Player: ABYX (Used as a D-Pad).
Changelog
Edit
Version 1.0.0
Edit
Videos and Screenshots
Edit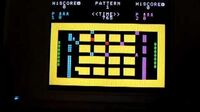 http://www1.odn.ne.jp/beni/petitcom/5/spa2.html
No license applied.
Ad blocker interference detected!
Wikia is a free-to-use site that makes money from advertising. We have a modified experience for viewers using ad blockers

Wikia is not accessible if you've made further modifications. Remove the custom ad blocker rule(s) and the page will load as expected.