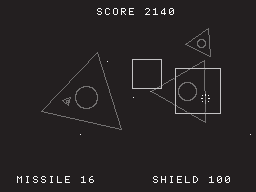 This is a sample program from the Petit Computer Official Strategy Technic under "The Epic Program No. 1" on page 107. It's a simple space shooter that demonstrates the use of vector graphics (GLINE, GBOX, and GCIRCLE). Here's the program if you don't want to copy all of the code from hand.
Ad blocker interference detected!
Wikia is a free-to-use site that makes money from advertising. We have a modified experience for viewers using ad blockers

Wikia is not accessible if you've made further modifications. Remove the custom ad blocker rule(s) and the page will load as expected.