Space Balls



General Info
Genre(s):
Puzzle
Contributor(s):
W!lbur$tudios
Release Date:
4 - 3 - 2015
Development Status:
Developmental Stage
Version:
v1.0.0
Size:
4,548 bytes
Mode(s):
no mode currently
Language(s):
D48 Triforce... (no just kidding it's English)

The thrilling game of space balls is a petit computer version of PONG(c) that has been staged to take place on the middle of a space station, somewhere in outer space. Use your paddles to bounce the ball, and keep it from leaving the left or right side of the screen. Every time that it hits one of your paddles you get 75 points! Keep playing until you beat your high score. Version 2.0 will include multiplayer rounds, different stages, and even a new song for each level!
Space balls is a fun game and I put a lot of work into it. It is a serious program not some little test. It should be treated with respect. Do not reproduce it. Please share it with your friends, but please don't edit my work to make it in any way inappropriate or perverted.
Thank you and have fun playing space pong,
W!lbur$tudios
THE CONTENT FOUND IN THIS GAME IS SUITABLE FOR ALL AGES AND CONTAINS NOTHING THE USER MAY FIND IN ANY WAY WRONG.
THIS GAME IS PUBLISHED STRICTLY FOR THE USERS ENJOYMENT
Future plans
Edit
Version 0.5.0
Edit
This version is a crude minimal pong game with a cool space-age look to it
Version 1.0.0
Edit
Final version
Download
Edit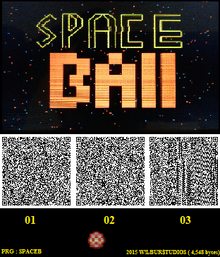 The Qr. codes are to the right. I hope you have fun! :)
Ad blocker interference detected!
Wikia is a free-to-use site that makes money from advertising. We have a modified experience for viewers using ad blockers

Wikia is not accessible if you've made further modifications. Remove the custom ad blocker rule(s) and the page will load as expected.