Sonic PTC: Got Past Ramps Edition



General Info
Genre(s):
Action, Platform
Contributor(s):
MYCRAFTisbest, Pixel-Voxel, Programgamer
Release Date:
October 19, 2014
Development Status:
MOD
Version:
1.0.0 (based off 0.9.3)
Size:
UNKNOWN Bytes (MANY Kilobytes)
Mode(s):
Single-Player
Language(s):
English

THIS IS NOT REAL, THIS WAS A GAG AND STILL IS. (but the spin-dash works)
For the first time on PTC... It's Sonic with ramps and loops!
If an error occurs, a loop made out of text appears. If this happens, just re-scan everything and try running it again.
Instructions
Edit
D-Pad: Left and Right to walk, Down to duck, prepare spindash, and (when moving) roll.
A: Jump and (after jumping) Jump Dash.
B: Charge spin dash by tapping repeatedly while holding D-Pad DOWN
Start: Switch to "debug" mode.
"Debug" mode
Edit
D-Pad: Move cursor.
A: Place tile.
B: Save level.
X or Y: Switch to the previous or next room respectively.
L and R: Switch to previous and next tile respectively.
Start: Switch to Sonic.
Jump on them to kill them
Ramps and loops
Edit
Allow for a more authentic sonic experience
Changelog
Edit
Added ramps and loops
Fixed SpinDash physics
Added a Badnick (Moto Bug)
Code made using a modified version of Sonic (Alpha - 0.9.3)
MADE FROM Sonic_PTC:_Got_Past_Conceptualization_Edition
http://petitcomputer.wikia.com/wiki/Sonic_PTC:_Got_Past_Conceptualization_Edition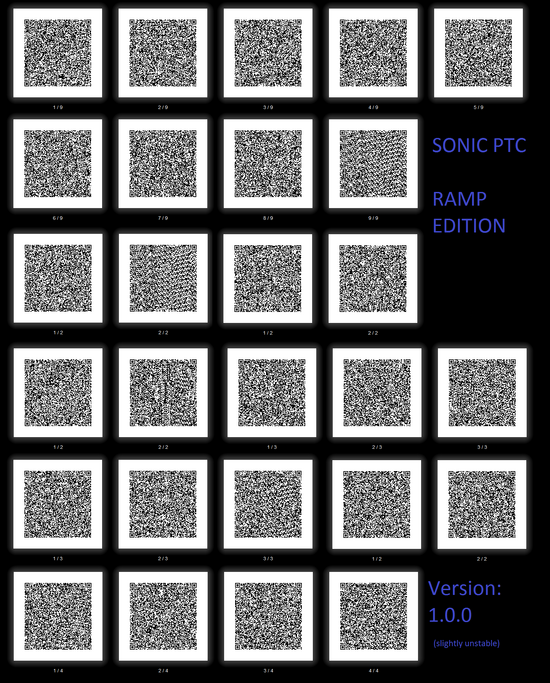 The download is above
No license applied.
The game's file name is just SONRAMP.
Ad blocker interference detected!
Wikia is a free-to-use site that makes money from advertising. We have a modified experience for viewers using ad blockers

Wikia is not accessible if you've made further modifications. Remove the custom ad blocker rule(s) and the page will load as expected.