Basic overview
Edit
Sand Art



General Info
Genre(s):
Creativity, Simulation, Other
Contributor(s):
W!lbur$tudios
Release Date:
10-17-15
Development Status:
stable
Version:
0.5.0-D
Size:
4604 bytes
Mode(s):
Beta
Language(s):
English

Sand Art is a unique drawing experience that mimics pouring sand to create a sand mural. This program is only in developmental stage, and its only features include a drawing pad, and color pallet.
Future Plans
Edit
Version 1.0 will feature a very stable game involving a small gallery that is capable of displaying a few images. The save and load mechanic of the application will be done, but not perfect. It will hopefully be done by winter
Version 2.0 will feature a perfectly stable game that includes a large gallery and a perfected save/load mechanic. It should be done by winter as well.
Changelog
Edit
v0.5 Released 10-16-15 involving a simple program with no save or load features.
Download
Edit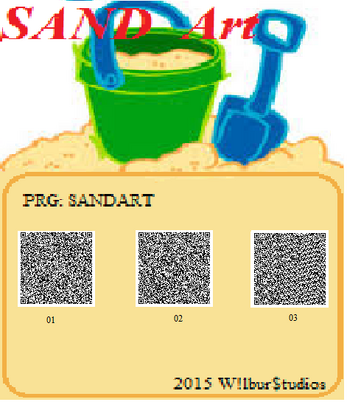 This is the program (version 0.5.0-D). Thank you for viewing it. Please at least try it, and let me know what you think. The controls are pretty basic, but I will still list them out.
Controls Edit
Touch - Select a color
X - open/close color menu
A - toggle between pen and eraser
Ad blocker interference detected!
Wikia is a free-to-use site that makes money from advertising. We have a modified experience for viewers using ad blockers

Wikia is not accessible if you've made further modifications. Remove the custom ad blocker rule(s) and the page will load as expected.