Run It


General Info
Contributor(s):
Blueberrypie87
Release Date:
July 11, 2014
Development Status:
Stable
Size:
252 B (0.246094 KB)
Mode(s):
Single-Player
Run It is a simple program I threw together in about 5 minutes. Its kinda stupid, I dont know why I made it. But here it is! in all its glory!
WARNING: DO NOT RUN IF PRONE TO SEIZURES! I MEAN IT!
"The program generates a cacophony by playing random beeps in quick succession, and flashing colours by filling the BG layers of both screens with random characters." - SquareFingers
QR codes: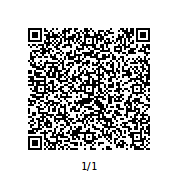 No license applied as of now.
Notes (PLEASE READ!)
Edit
WARNING: DO NOT RUN IF PRONE TO SEIZURES! I MEAN IT!
I take no responsibility for damage to or even loss of hearing or vision. If you didn't read the warning that I wrote TWICE, that's on you, pal.
Ad blocker interference detected!
Wikia is a free-to-use site that makes money from advertising. We have a modified experience for viewers using ad blockers

Wikia is not accessible if you've made further modifications. Remove the custom ad blocker rule(s) and the page will load as expected.