Robscape PTC Edition


General Info
Genre(s):
Platform, Puzzle
Contributor(s):
RayTro
Release Date:
Unknown
Development Status:
Alpha
Version:
0.9
Size:
10664 B (11 KB)
Mode(s):
Single-Player
Language(s):
English
ROBSCAPE is a game I programmed since I got Petit Computer. It's using MGVD, my graphical engine. It's a nice Arcade game, it's easy to understand the concept, take the key and reach the door. The problem is that you are a robot, so you have a battery ( a bad battery...) that can get empty when you're moving. You need to collect special power for your battery. The game is almost done, I just need to create the levels and add some things. This game is not the real ROBSCAPE, that's why there's "PTC Edition" in the name. At the beginning, ROBSCAPE was a game programmed on Casio Calculators (programmed by myself) where the concept was to escape while resolving puzzles, that are sometimes very hard.
Game Features
Edit
7 Stages
Using MGVD
Score system, with Hi-score saving
Lives system
Commands and Bonuses on the touch screen
You battery can get
PassCode system (Password algorithm)
Instructions
Edit
Commands are on the touch screen while playing.
Changelog
Edit
Version 0.9
Edit
Added informations on tactical screen
Hi-score system
PassCodes changed
Added lives
Added 2 levels
When last stage is done, you return at the first stage with your actual score.
Version 0.8
Edit
Added PassCode system's error messages.
Version 0.7
Edit
Version 0.6
Edit
Version 0.5
Edit
3 new stages
Press B to move tile by tile
Version 0.4
Edit
Replaced functions with DATA
MGVD got updated
Jump physics aren't glitchy anymore
The 2 first stages got replaced by new ones
Version 0.3
Edit
Added Keys, doors, battery power and bonuses
2 new stages
Press START to return at the title screen
Version 0.2
Edit
Replaced BTRIG with BUTTON
Player jumps with A
Jump physics, but glitchy
Version 0.1
Edit
Title screen done!
Started using MGVD
Stage 1
The player can fall, climb ladders, jump with Up...
Future Plans
Edit
Version 1.0
Edit
Videos and Screenshots
Edit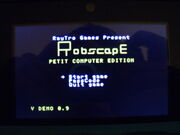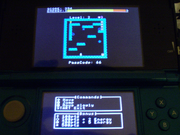 Version 0.9 (Bug Fixed): QR-Code (5)
Please do screenshots, I can't do them.
Ad blocker interference detected!
Wikia is a free-to-use site that makes money from advertising. We have a modified experience for viewers using ad blockers

Wikia is not accessible if you've made further modifications. Remove the custom ad blocker rule(s) and the page will load as expected.