Pong


General Info
Genre(s):
Sports
Contributor(s):
Jamieyello
Release Date:
"Release Date" (March 9, 2011)
Development Status:
Stable/Final
Version:
1.0.0
Size:
Unknown
Mode(s):
"Game Modes" (Single-Player, Multiplayer) Note: Do not use anything other than the two given in the paranthesis.
Language(s):
"Language(s)" (English, Japanese)
"Pong! Two player mode, four levels on single, easy, medium, hard and impossible."
Instructions
Edit
It's Pong man. You move the paddle up and down and try to not let the ball go past your side.
Changelog
Edit
Version ?.?.?
Edit
Future Plans
Edit
N/A
Videos and Screenshots
Edit
None exist.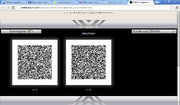 N/A
"Tell me if anyone beats impossible, because it's not possible."
Ad blocker interference detected!
Wikia is a free-to-use site that makes money from advertising. We have a modified experience for viewers using ad blockers

Wikia is not accessible if you've made further modifications. Remove the custom ad blocker rule(s) and the page will load as expected.