Petit RPG


General Info
Genre(s):
RPG
Contributor(s):
TwinArmageddonz
Release Date:
October 16, 2014
Development Status:
Beta
Version:
0.1
Size:
Approximately 40 KB
Mode(s):
Single-Player
Language(s):
English
An RPG on Petit Computer.
Instructions
Edit
D-Pad to move
A to interact/confirm
B to run/cancel
Y to start battle (No random encounters yet)
Touch screen to save and access inventory (nothing else works yet)
Changelog
Edit
Version 0.1
Edit
Initial Release
A couple monsters each with unique attacks and animations
Two functional bosses (Griffin and Goblin King)
Two skills done though only one is available
Attacking Defending Passing and Fleeing in battles
9 Overworld Areas
Level cap of 24 (Anything above crashes when saving)
Started working on story though nothing major is done yet
Future Plans
Edit
Finish the game (obviously)
At least 24 monsters and 8 bosses
10 skills minimum
Complete overworld
Complete story
Randomized dungeons
Equipment and items
Videos and Screenshots
Edit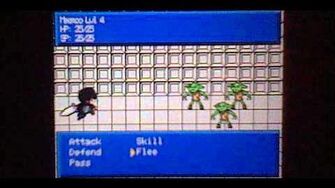 Program: http://i.imgur.com/dPkQN5I.png
Sprites: http://i.imgur.com/sUIiOAs.png
Tentative title
Talk to the NPCs, they sometimes have useful information
Griffin has no overworld sprites for whatever reason so when at the tower summit just walk up until you hit an invisible wall and interact with it
Ad blocker interference detected!
Wikia is a free-to-use site that makes money from advertising. We have a modified experience for viewers using ad blockers

Wikia is not accessible if you've made further modifications. Remove the custom ad blocker rule(s) and the page will load as expected.