Petit Push



General Info
Genre(s):
Puzzle, Strategy
Contributor(s):
Mrijprice
Release Date:
August 12, 2013
Development Status:
Stable
Version:
1.0.0
Size:
N/A
Mode(s):
Single-Player
Language(s):
English
Petit Push is a puzzle game, based on Sokoban,  where you push boxes onto X symbols. The game is currently WIP and features 40 levels. The game was written by Ian Price.
Instructions
Edit
Up/Down/Left/Right - Move.
A - Reset/restart puzzle.
L/R - Select level (on title screen).
Select - Exit.
Changelog
Edit
Version 1.0.0
Edit
Videos and Screenshots
Edit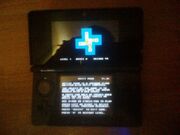 These are the QR codes: gamefaqs.com/boards/663843-petit-computer/66955367
Ad blocker interference detected!
Wikia is a free-to-use site that makes money from advertising. We have a modified experience for viewers using ad blockers

Wikia is not accessible if you've made further modifications. Remove the custom ad blocker rule(s) and the page will load as expected.