NANARIS



General Info
Genre(s):
Puzzle
Contributor(s):
A47A47
Release Date:
June 20, 2014
Development Status:
Final
Version:
3.3
Size:
26KB
Mode(s):
Single-Player
Language(s):
English
NOTE : A47A47 is Japanese and not good at English well.
A simple, essential and very best tetris almost all made of characters.
Instructions
Edit
Menu

Up or Down : Choose difficulty
Left : Choose lock delay length from x1, x2 and infinite (If you choose x2 or infinite, your best score or best time wiii not be saved.)
Right : Choose Game length from short and medium
A : Start a game
B : Quit

Game

Left or Right : Shift the current piece left or right
Up : Drop the current piece in instant (Not lock in instant)
Down : Drop and lock the current piece in instant
A or B :Rotate the current piece clockwize or counterclockwize
Changelog
Edit
Version 3.1
Edit
Add lock delay length: x2 and infinite
Add game length: short
If you press down button, the current piece drop not fast but in instant
Version 3.2
Edit
Version 3.3
Edit
Videos and Screenshots
Edit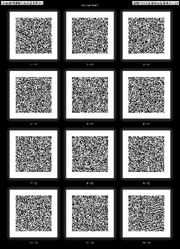 You can change some variables.

Line No. 2: If you set COLORBLIND=0 then NEXTs after 2nd through 7th display only as colors not as shapes. If you set COLORBLIND=1 then display as colors and shapes.
Line No. 3: If you set HARDDROP=0 then when you press down button the current piece drop fast and lock. If you set HARDDROP=1 then drop and lock in instant.
Line No.4: If you set HIDEFP=0 then it shows detailed speed. If you set HIDEFP=1 it shows about speed.
Line No.5: If you set SHADOW=0 then it doesn't show the current piece's shadow. If you set SHADOW=1 then it shows the current piece's shadow.
Line No.6: You can change randomizer. 0: 7bag, 1: 7draw, 2: 4draw, 3: square pyramid number, 4: square number, 5: triangler number, 6: at random
Ad blocker interference detected!
Wikia is a free-to-use site that makes money from advertising. We have a modified experience for viewers using ad blockers

Wikia is not accessible if you've made further modifications. Remove the custom ad blocker rule(s) and the page will load as expected.