Minos Challenge


General Info
Genre(s):
Adventure
Contributor(s):
Brilliance360
Release Date:
January 14, 2015
Development Status:
Stable
Version:
1.0.0
Size:
12300 B (12.3 KB)
Mode(s):
Single-Player
Language(s):
English
A huge labyrinth! Bad guys!! And where is the exit!?!
You probably won't survive...after all, you aren't Daedalus, and you don't know how to build wax wings. Collect keys, open chests, obtain potions, and try to fight off the minions!
Instructions
Edit
Control Pad moves you room to room and switches between menu choices.
(A) picks up keys and selects menu options.
(Y) uses a potion.
Changelog
Edit
Version 1.2.0
Edit
It probably seems pretty silly to include another update so soon, but I had an epiphany, and now the problem with the loading screen is fixed. Also, the change removed at least 100 lines of code, so there are fewer QR's to download. Start the game and enjoy immediately!
Version 1.1.0
Edit
Fixed a potion glitch which allowed for both defending and using a potion. Edited room colors so some rooms will have more meaning. Red is a bad color (anybody seen "The Village"?). Changed music to some of my own and a different preset. Treasure boxes appear more frequently. Minion's battle strategy is a little less random; now it can respond to your input. All in all, game difficulty should be much easier. V1.0.0 my high score was 99 rooms explored; in my play test for this version, I stopped at 523.
Version 1.0.0
Edit
The game is made! It's probably too hard, but whatever.
Future Plans
Edit
Open to ideas. Expanding gameplay could provide a lot of depth. Also, if there's something you don't like, not saying anything about it won't change anything!
Considering adding a couple of new enemies, each with their own battling behavior, and obviously, a minotaur will someday roam these halls. Also, I want my own music throughout the game. Different items may also be a good idea.
Videos and Screenshots
Edit
None currently.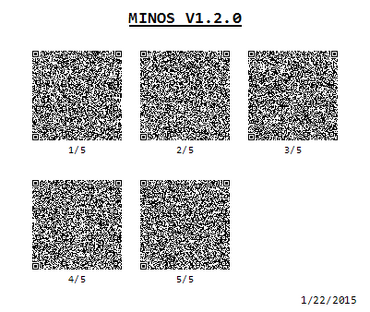 Copyright (c) 2015 David Harrison
Permission is hereby granted, free of charge, to any person obtaining a copy of this software and associated documentation files (the "Software"), to deal in the Software without restriction, including without limitation the rights to use, copy, modify, merge, publish, distribute, sublicense, and/or sell copies of the Software, and to permit persons to whom the Software is furnished to do so, subject to the following conditions:
The above copyright notice and this permission notice shall be included in all copies or substantial portions of the Software.
THE SOFTWARE IS PROVIDED "AS IS", WITHOUT WARRANTY OF ANY KIND, EXPRESS OR IMPLIED, INCLUDING BUT NOT LIMITED TO THE WARRANTIES OF MERCHANTABILITY, FITNESS FOR A PARTICULAR PURPOSE AND NONINFRINGEMENT. IN NO EVENT SHALL THE AUTHORS OR COPYRIGHT HOLDERS BE LIABLE FOR ANY CLAIM, DAMAGES OR OTHER LIABILITY, WHETHER IN AN ACTION OF CONTRACT, TORT OR OTHERWISE, ARISING FROM, OUT OF OR IN CONNECTION WITH THE SOFTWARE OR THE USE OR OTHER DEALINGS IN THE SOFTWARE.
Oh by the way, it's a magical labyrinth. And feel free to share high scores in the comments.
Ad blocker interference detected!
Wikia is a free-to-use site that makes money from advertising. We have a modified experience for viewers using ad blockers

Wikia is not accessible if you've made further modifications. Remove the custom ad blocker rule(s) and the page will load as expected.