MANDLBRT


General Info
Contributor(s):
SquareFingers
Release Date:
June 21, 2014
Development Status:
Stable
Version:
1.0.0
Size:
approx. 400 B (1 KB)
Mode(s):
Single-Player
Language(s):
English
This program draws an approximation of the Mandelbrot set. I have tweaked the calculations to make better (more precise) use of the fixed-point resolution of numerical values in SmileBasic, and then optimized it for speed.
Instructions
Edit
Run the program, watch the image develop. After the image is finished, marvel at how many seconds it took (top-left of the screen; 66.033 on my 3DS - 67.283 on my new 3DS!), then press any button.
Changelog
Edit
Version 1.0.0
Edit
Future Plans
Edit
No future plans.
Videos and Screenshots
Edit
No videos or screenshots; the Wikipedia article or the Wolfram MathWorld article will give you an idea of the shape, though it is drawn with different colours in this program.
No license applied as of now.
No special notes.
NOTE: This is not the program
This QR is for adding this program to the 0FILES system. Scan it, run 0F_ADD once, and the program on this page will appear on the 0FILES list.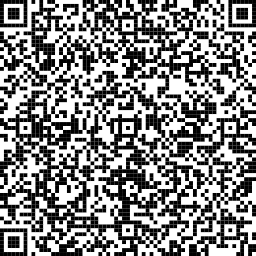 Ad blocker interference detected!
Wikia is a free-to-use site that makes money from advertising. We have a modified experience for viewers using ad blockers

Wikia is not accessible if you've made further modifications. Remove the custom ad blocker rule(s) and the page will load as expected.