Legcraft



General Info
Genre(s):
Simulation
Contributor(s):
MyLegGuy721
Release Date:
August 27th 2014
Development Status:
Final
Version:
Version 1.0
Size:
 ???
Mode(s):
Single-Player
Language(s):
English
A simple Terraria/Minecraft game I made.
Instructions
Edit
Move the cursor with the touch screen.
Press L to place whatever you have selected to use.
Tap a block on the touch screen to select it.
Tap the pickaxe icon in the bottom left to toggle the pickaxe on and off.
Press L when the pickaxe is toggled on to break something.
Tap the bag thingie in the top left to select a block to use.
Changelog
Edit
Version 1.0
Removed box pet
Removed color changing
Removed block size
Worlds are now 64x64
Added saving
Version 0.1
Edit
Future Plans
Edit
Nothing.
Videos and Screenshots
Edit
MIT License
Download
Edit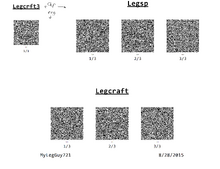 Ad blocker interference detected!
Wikia is a free-to-use site that makes money from advertising. We have a modified experience for viewers using ad blockers

Wikia is not accessible if you've made further modifications. Remove the custom ad blocker rule(s) and the page will load as expected.