Ghostbusters



General Info
Genre(s):
Action
Contributor(s):
J8B
Release Date:
September 25, 2016
Development Status:
Release stable
Version:
1.1
Size:
309160 B
Mode(s):
Single Player
Language(s):
English, French

If there's something strange in you neighborhood Who you gonna call? Ghostbusters !!
Hi, i'm J8B from PetitComputerFrance (so sorry for my english) and i'm presenting my third game on Petit Computer and the first in English. It's based from the Master System's version and i've made some changing, it's not a real copy of the original game.
Differences
Edit
What's changed in this version:
The 4th member of ghostbusters is present
All the building can be invade by ghosts
The marshmallow's detectors can slow down the formation of the marshmallow man
Collide with a car cost money
Explode your car cost money depending of the car you have
The marshmallow man's move is different
In the zuul building, there is less floors to climb
The yellow ghost sends only one plat at a time
In front Gorza (Gozer in the movie), the dogs shoot only one fireball each at a time
Few minors graphics differences
No karaoke
No scrolling text when game over or finishing the game
New scene ending
Use of the second screen for information
How to play ?
Edit
All controls are on the bottom screen.
In the first part of the game, you must earn enough money to pay back the bank, so you need 10000$.
If you use the control pad, push the corners to turn better on the map.
Be careful when you choosing your equipment at the beginning of the game.
The gatekeeper and the keymaster will stole your money if you're touching them.
Touch the ghosts on the map to stop them.
Screenshots
Edit
Here the QR codes of the game version 1.1:
Original page (french)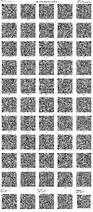 Ad blocker interference detected!
Wikia is a free-to-use site that makes money from advertising. We have a modified experience for viewers using ad blockers

Wikia is not accessible if you've made further modifications. Remove the custom ad blocker rule(s) and the page will load as expected.