Flappy Bird - PTC Edition



General Info
Genre(s):
Action, Arcade, Racing
Contributor(s):
Bluerobin2
Release Date:
February 11, 2014
Development Status:
Final
Version:
1.0.0
Size:
Not avaliable
Mode(s):
Single Player
Language(s):
English
Flappy Bird was a big hit on smartphones until the creator took it down:(. However, you could play it on PTC now! :D
Instructions
Edit
Touch the screen or use buttons to "flap". Avoid as many pipes as you can. Try to get through the pipes. I recommend the touch screen; though you can use the buttons as well.
NOTE: You need to get Petit Computer for the DSi or 3DS in order to play this game. Sorry, I'm no Homebrewer.
Changelog
Edit
Version 1.0.0
Edit
Future Plans
Edit
None as of now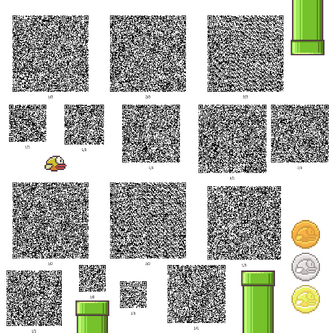 I DO NOT OWN ANY RIGHTS OR COPYRIGHTS OF "Flappy Bird" AND/OR IT'S RESOURCES. "Flappy Bird" IS OWNED BY .GEAR STUDIOS.
Collisions are a little glitchy. Watch out for that.
Bluerobin2 - Contribution