Explore a world that is threatened by an unknown evil, destroy the evil, save the land.
Instructions
Edit
Explore the world and destroy monsters to gain exp and get items.
Changelog
Edit
I took Petit Slash II and modified it majorly.
Version 1.1
Edit
Will Fix some bugs and add some graphical differences and other small things (Working on)
Version 1.0
Initial Release
Future Plans
Edit
I will add a storyline once I get all of the bugs out and I will attempt to improve the map and improve the graphics.
Videos and Screenshots
Edit
None Yet.
Click Link To Download Version 1.0
https://www.dropbox.com/s/d8ezwfrt8m6aaoh/FF%20QR%20Codes.zip?n=198949213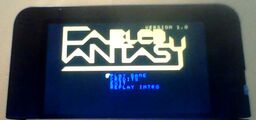 "No license applied as of now."
I would like to tell you that there is an easteregg it is small but cool. I modified Petit slash II to fit my liking, so please do not criticize my work. This is the first program I have sent to this community.
List anyone who worked on this game.
Ad blocker interference detected!
Wikia is a free-to-use site that makes money from advertising. We have a modified experience for viewers using ad blockers

Wikia is not accessible if you've made further modifications. Remove the custom ad blocker rule(s) and the page will load as expected.