Dungeon


General Info
Genre(s):
Puzzle
Contributor(s):
Tor Damian
Release Date:
July 28, 2013
Development Status:
Playable. Further development pending.
Version:
1.0.8
Size:
Unspecified
Mode(s):
Single-Player
Language(s):
English
Description
Edit
A puzzle game called DUNGEON where you control a small ASCII art man in a dungeon, evading snakes, shoving boulders and getting the key to the door. 
Levels are structured such that it is very easy to create your own levels for the game. Description and help can be found at the end of the program file.
How to Play
Edit
Use the + control pad to move your character. Press the START button to bring up the pause menu, where you can also change the level, background music and return to the title screen.
Changelog
Edit
Future Plans
Edit
More levels, more enemies and more objects to interact with. New levels should range from difficult to very very difficult.
Videos and Screenshots
Edit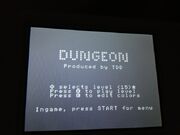 Direct link to QR image; always up-to-date

http://meditationsongames.wordpress.com/2013/07/31/petit-computer-dungeon/.
http://forums.rpgmakerweb.com/index.php?/topic/16031-petit-computer-3dsdsiware/#entry157676
Gameplay Video: http://www.youtube.com/watch?feature=player_embedded&v=fH1Xhr-4_2Q
Ad blocker interference detected!
Wikia is a free-to-use site that makes money from advertising. We have a modified experience for viewers using ad blockers

Wikia is not accessible if you've made further modifications. Remove the custom ad blocker rule(s) and the page will load as expected.