Dot Artist



General Info
Contributor(s):
Abgar (Abgar)
Release Date:
March 25, 2015
Development Status:
Final
Version:
1.1
Size:
4 KB
Mode(s):
Single Player
Language(s):
English
This was one of my first Petit Computer projects, it's meant to simulate the Dot Artist mini game from Pokemon Diamond & Pearl, except that in this one you can use all the screen instead of just the original space.
With it, you can draw monochrome pixel art and save it as a GRP file.
It's been updated since I first released it, you can now save and load the picture and add a grid to make drawing easier.
Instructions
Edit
Tap the screen to change the shade of each "pixel". Each tap will make the pixel darker until it resets.
Press A to completely clear the drawing.
Press B to toggle the grid on and off.
Press Y to load your saved drawing.
Press X to save your current drawing.
Changelog
Edit
Version 1.1
Edit
Added saving, loading and the grid.
Other minimal fixes.
Version 1.0
Edit
Future Plans
Edit
No plans.
Screenshots
Edit
Click the image to enlarge the codes.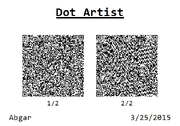 No license applied as of now.
This is actually a really old app, I just wanted it to have its own page here.
Ad blocker interference detected!
Wikia is a free-to-use site that makes money from advertising. We have a modified experience for viewers using ad blockers

Wikia is not accessible if you've made further modifications. Remove the custom ad blocker rule(s) and the page will load as expected.