"COOKIE!"



General Info
Genre(s):
Arcade, Simulation
Contributor(s):
HylianHoundoom
Release Date:
August 5, 2015
Development Status:
Stable
Version:
1.0.0
Size:
42 KB
Mode(s):
Single-Player
Language(s):
English

A game inspired by the mobile version of Cookie Clicker. This game has Chocolate Milk, Golden Cookies, references to Pokemon and Zelda, and more.
Explained in-game.
Changelog
Edit
Version 1.0.1
Edit
Fixed some bugs
Completely remade the upgrade system
Added more splash text
Version 1.0.0
Edit
Future Plans
Edit
Increase Maximum Cookies
More Background cookies
More Splash Text
Fix Bugs
Add more of everything
Videos and Screenshots
Edit
None so far.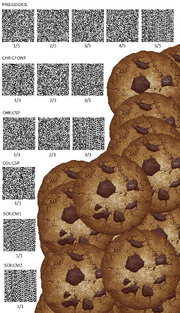 Permission is hereby granted, free of charge, to any person obtaining a copy of COOKIE! and associated documentation files, to deal in the COOKIE! without restriction, including without limitation the rights to use, copy, modify, merge, publish, distribute, sublicense, and/or sell copies of COOKIE!, and to permit persons to whom COOKIE! is furnished to do so, subject to the following conditions:
HylianHoundoom must asked permission to modify and/or redistribute the software via email.
HylianHoundoom must be added to the credits of the software.
THE SOFTWARE IS PROVIDED "AS IS", WITHOUT WARRANTY OF ANY KIND, EXPRESS OR IMPLIED, INCLUDING BUT NOT LIMITED TO THE WARRANTIES OF MERCHANTABILITY, FITNESS FOR A PARTICULAR PURPOSE AND NONINFRINGEMENT. IN NO EVENT SHALL THE AUTHORS OR COPYRIGHT HOLDERS BE LIABLE FOR ANY CLAIM, DAMAGES OR OTHER LIABILITY, WHETHER IN AN ACTION OF CONTRACT, TORT OR OTHERWISE, ARISING FROM, OUT OF OR IN CONNECTION WITH THE SOFTWARE OR THE USE OR OTHER DEALINGS IN THE SOFTWARE.
Every ten seconds a star will appear in the lower left corner, when five stars have appeared there is a 50/50 chance that a golden cookie will drop. Ten seconds after the fifth star has appeared the first star will start spinning, every ten seconds after that the next star will start to spin. When all five stars are spinning the milk will become chocolate milk, then you will have thirty seconds before the milk will become normal again.
Ad blocker interference detected!
Wikia is a free-to-use site that makes money from advertising. We have a modified experience for viewers using ad blockers

Wikia is not accessible if you've made further modifications. Remove the custom ad blocker rule(s) and the page will load as expected.