BitGRP



General Info
Contributor(s):
TheV360
Release Date:
August 16, 2015
Development Status:
Final
Version:
1.0.0
Size:
lol idk
Mode(s):
Single-Player
Language(s):
English
8 pages to draw on!... but only in black and white.
Instructions
Edit
Press left and right to go through the pages
Hold A and tap to fill
Hold B to use the eraser
Press X to go to the menu
Press Y to change the pen's size
Press start to save the current page
Press left and right to go through the pages, without taking the time to read them
Press A to load a file
Press B to save a file
Press X to go back
Press Y to clear the current page (NO WARNING!)
Press start to clear all pages (NO WARNING!)
Changelog
Edit
Version 1
Edit
Future Plans
Edit
None really, I might add a few colors at the cost of only having 4 pages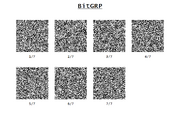 The JUST DON'T SELL/STEAL MY STUFF license. If you like my sprites for loading, you can ask me to give you them
If you find a bug, leave it in the comments.
I'm learning more about PTC, so expect some cool stuff!
Ad blocker interference detected!
Wikia is a free-to-use site that makes money from advertising. We have a modified experience for viewers using ad blockers

Wikia is not accessible if you've made further modifications. Remove the custom ad blocker rule(s) and the page will load as expected.