Asteroids(atari)


General Info
Genre(s):
Arcade
Contributor(s):
Monovae
Release Date:
August 12, 2015
Development Status:
Alpha
Version:
1.00
Size:
I don't know
Mode(s):
Single-Player
Language(s):
English
This is a port of an old atari game called Asteroids. I really only made this since no one else did, and it's not quite done yet.
Instructions
Edit
Use the circle pad or d-pad to turn or go forward. Use the touch screen to shoot.
Changelog
Edit
Version 1.00
Edit
Initial Release
You can move
You can shoot
You can die
You can blow up asteroids
There is a star field backdrop generated
Future Plans
Edit
more versions will come out if I feel like making them. don't get your hopes up
Videos and Screenshots
Edit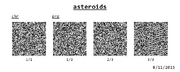 none
asteroids don't frag in this version like they do in the real game
Ad blocker interference detected!
Wikia is a free-to-use site that makes money from advertising. We have a modified experience for viewers using ad blockers

Wikia is not accessible if you've made further modifications. Remove the custom ad blocker rule(s) and the page will load as expected.