3D Wireframe Rendering Engine



General Info
Genre(s):
Applications, Tech Demo
Contributor(s):
Henry00IS, Henry00IS
Release Date:
January 6, 2015
Development Status:
Stable
Version:
1.0.0
Size:
5068 B (5 KB)
Mode(s):
Single-Player
Language(s):
English
I read a tutorial about 3D software rendering and managed to recreate just that on Petit Computer. It was a lot of fun because I learned about manual matrix multiplication and how perspective rendering works. I hope you enjoy!
You are able to move the cube around, change the vertices/indices at the bottom of the script and edit the transform matrices in such a way that the image distorts and shears. I was unable to implement any rotation at this point.
Future Plans
Edit
I will probably create this program on the Nintendo 3DS version of petit computer and see how much potential it has then =)
You can download the original PTC source file here: PRG_E3D.PTC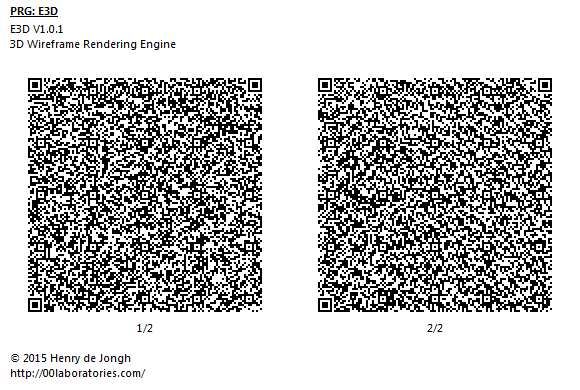 Changelog
Edit
Version 1.0.1
Edit
256x128 to 255x192 resolution mismatch fixed.
Version 1.0.0
Edit
No license applied as of now..
References
Edit
http://blogs.msdn.com/b/davrous/archive/2013/06/13/tutorial-series-learning-how-to-write-a-3d-soft-engine-from-scratch-in-c-typescript-or-javascript.aspx
Ad blocker interference detected!
Wikia is a free-to-use site that makes money from advertising. We have a modified experience for viewers using ad blockers

Wikia is not accessible if you've made further modifications. Remove the custom ad blocker rule(s) and the page will load as expected.